What is a Wireless Audio Intercom?
Wireless audio intercoms use combinations of digital radio waves to transmit audio signals to a dedicated handset in the house.
The entry panel will be hard-wired to a transmitter which will then communicate with the handset via radio signals. Because of this, it is always recommended to position the transmitter so that it faces the property, or where ever the handset is stationed.
For more information on getting the right system for you, please contact our friendly Technical Sales department on 01384 569942, or via technical@easygates.co.uk.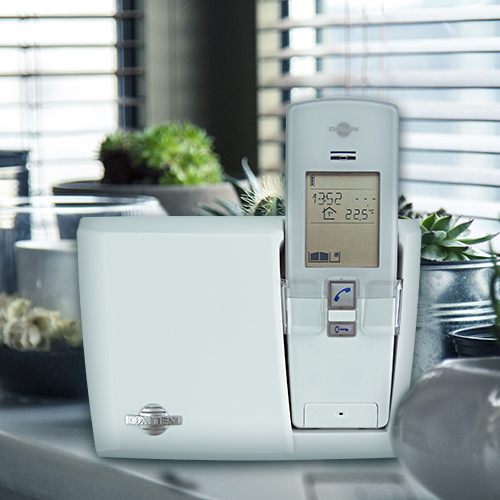 Digital Enhanced Cordless Telecommunications
The AES DECT 603 series wireless audio intercom systems are suitable for one household or business. The DECT 603 is a high quality, reliable intercom system that is available in a range of options to suit your needs. Perfect for residential and commercial use, with world-class long range performance.
2 Relays
Digital wireless signal for clear conversation
Voicemail feature for missed callers
Charging dock for handset
Thanks to digital signals the AES DECT 603 boasts high quality audio clarity allowing for crisp clear conversation point to point, even over distances up to 500 m unobstructed and 200 m through an exterior concrete, brick or stone wall. The audio intercom range has a comprehensive selection of options, to best serve your style, need and functionality. With its sleek curves and polished finish, the intercom itself comes in two aesthetic styles:
Brushed stainless steel, with black gloss facade and blue back lighting
Full BS316 marine grade, brushed stainless steel body with white back lighting
As well as aesthetic preferences, the range includes functional variants with back lit code-lock keypad with 3 relays for personalised access control including latching and momentary operation. Thanks to the illuminated keypad theres no fumbling in the dark for your phone, the keypad offers 4-8 digit passcodes to ensure the safety of your property and can store up to 1200 user codes.
The handsets are unobtrusive and simple to use with intercall between handsets, built in voicemail, to record missed callers at your door or gate. Standard orders carry one handset but more are available.
Daitem Wireless Audio Intercom Systems
Wireless remote entry control systems for the home and office
The Daitem Wireless audio Intercom system allows the user to welcome and filter visitors, listen in to background sounds, and operate a number of automation systems from the home, such as electric gate openers, garage door openers, lighting systems and electric latches and locks. The SC100AU handset (included) can be used to control all these automated systems, as well as monitor them (check if entrances are open or closed, or lighting on and off etc.) and communicate with additional handsets.