GSM Intercoms allow the user to call or use SMS to trigger an automated gates opening function, or to receive incoming visitor calls on their mobile device. Intercoms with a user data base can be preprogrammed with permanent or temporary phone numbers, allowing access to other residents, guests, or even delivery services.
GSM based intercom systems are ideal for installations where excavation is not an option, for example if it is not possible to run lengthy cables from the property to the gate. However it is important to remember that GSM intercoms require good signal strength to operate effectively, much like how a mobile phone works.
If you need any further advise or details regarding the products listed below, please contact our friendly Technical Sales Team on 01384 569942 or via technical@easygates.co.uk.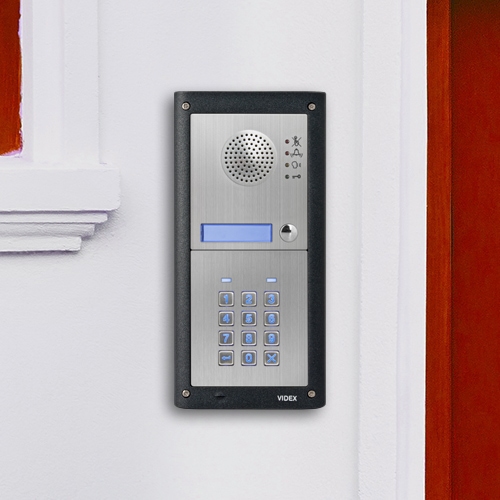 Easily manage your intercom from the free smartphone app
The Cellcom Prime 6 is a state-of-the-art GSM intercom system which calls your home phone and mobile phone(s) on roll-over whenever a visitor pushes the call button on the intercom. User friendly and hassle-free, you can have total remote management over your intercom via phone call and the free smartphone app – wherever you are in the world.
This advanced GSM audio intercom system is suitable for one household or business, and is available in a range of options to match your needs. Acrylic trim or stainless steel? With or without keypad? The choice is yours.
Set automatic gate open & close times, great for the work commute or school run
Do-not-disturb watershed time to stop nuisance calls during unsociable hours
User history log to your phone, so you can always track of who is coming and going
Illuminated call button and keypad for ease of use in the dark
Manage your intercom via the free smartphone app for Android & Apple iOS
Issue time restricted and temporary codes to allow access on chosen days / times
High signal strength antenna supplied as standard for reliable reception
2 relays for operating automatic gates & pedestrian gates / doors
Wide range of solutions to your access control requirements
Videx's GSM Door Entry System employs mobile phone technology to operate doors and automatic gates.
Based on Videx's 4000 series audio intercoms, Videx's GSM range retains all of its features, in addition to capacity for up to 250 built in access codes for the dial to open feature; allowing users to call the entry panel for access. The optional keypads are completely self contained, requiring only an external power supply and antenna.
These intercoms are available in a wide range of options to suit your requirements. Available with one or two call buttons, with or without keypad and flush or surface mounted fitting.
Intercoms with either one or two call buttons, which can dial any landline or mobile number
Dial to open facility allows opening of doors and gates via phone, with no call charge
Easily control access for up to 250 users (dependent on SIM card used)
Call diverting will ring through to a second phone number if the first phone number is busy or has not answered
Sleek and stylish design with stainless steel facia plate with gun metal grey surround
Quick and simple to program via SMS or dial in, no need to open up the intercom itself
Signal strength checking via SMS to help you get the best reception possible
Automatic call facility keeps network connection constant even if the system is out of use for long periods of time