Welcome to the EasyGates Garage Door Guide
Here on the Garage Door Guide we will help you decide what kind of garage door opener will suit your current or future setup. From canopy type to swing type - we cover all door types here. Still non the wiser as to which garage door opener will be right for you? Not to worry.
We encourage you to get in touch via email, live chat or call us free if you are ever uncertain on your purchase.
These types of garage doors are most commonly used as a basic single garage door, they can only be used generally with sizes up to 8m, otherwise larger doors require a retractable mechanism.
When fully open, the door does not retract all the way into the garage but leaves a section creating a canopy in front of the garage.
One disadvantage of this type of garage door is that when opening or closing the garage door it sticks out from the garage until it is fully open or closed meaning a vehicle will need to stop an appropriate distance away when opening and closing so as to not hit the vehicle.
However, these doors do not have horizontal runners into the garage. This is an advantage to many people who wish to store items on the ceiling of their garage. The main benefit of the canopy garage door is that there is no loss of full drive-through width, allowing for easy entrance.
These types of garage doors are easily converted to a remote automated system with electric operation, making them a far more popular choice for garage door owners, they are also extremely reliable too.
These garage doors don't use cables in the lifting process, they use side-mounted lifting arms with tension springs attached lower down to assist in the opening of the garage door, with the garage door opening into the garage on horizontal steel runners using rollers at each corner in order to support it.
One-piece doors over 8ft wide use retractable gear as canopy gear cannot handle the heavy doors like larger arms and springs can.
A downside to this type of garage door is that the drive-through width is reduced slightly when the door is open.
Note: Retractable vs Canopy Type Doors
Although retractable doors are usually contained inside the garage space when opened, some may extend beyond the door opening, similarly to the way a canopy type door does.
In this case, another way to distinguish between Canopy and Retractable type doors is to identify the placement of the door's springs. If the spring is above the door, it is a canopy type door. If the springs are beside the door, it is a retractable type door.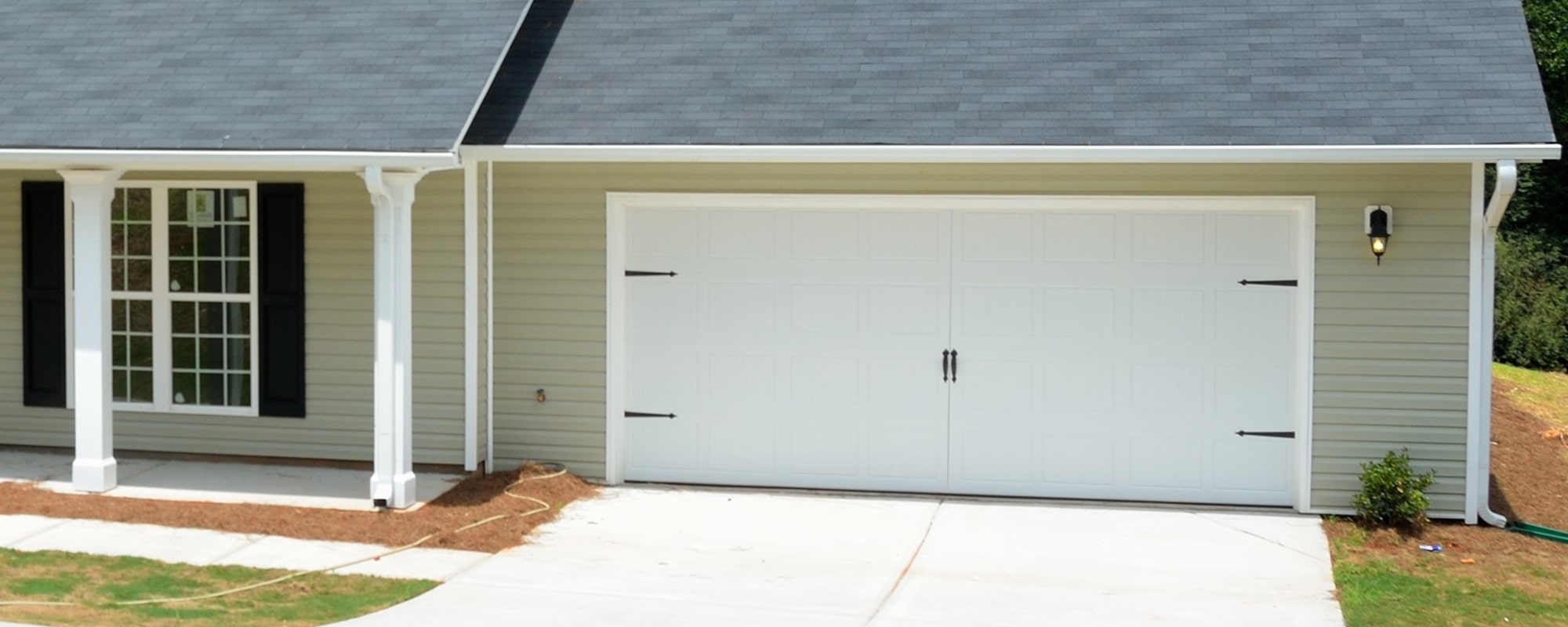 Swing / Side-Hinged Type Garage Doors
A recently revived garage door system is the swing garage door opener. With a simple and practical design, a swing type garage door with a width of up to 10ft and a height of up to 8ft is able to open without ever going into the garage (although some door stays do).
This type of garage door is ideal for people who store other than a car such as a tumble drier, bikes, freezers etc in their garage, as there is no need to open the garage fully to get inside.
Some manufacturers produce these types of garage doors in varying sizes such as a one third or two thirds wide door, this is in order to give better pedestrian sized access.
Swing / side-hinged type garage doors are capable of automation with certain openers if circumstances allow. For further information and to discuss your options, please contact our friendly technical team by clicking the button below.
Sectional type doors are becoming more and more popular due to it's greater security for your home, better sealing keeping your property better insulated during the colder seasons, the fact that there is no swing out when opening or closing this type of garage door, the smoothness of the opening and closing operations and the large range of sizes that are available. Plus this garage door type is easier to automate.
The sectional garage door is split up into 4 or more sections that run along vertical tracks until it reaches the top of your garage then runs on horizontal tracks to follow the ceiling of you garage.
Each panel has two rollers allowing for a sturdy and reliable movement of each panel, it also allows for wider and thicker panels (8000mm wide and up to 45mm thick), this garage door is also capable of going higher than other other types of garage doors.
Roller shutter doors are a very common type of garage door used for residential, commercial or industrial use. The advantage of the roller shutter door is the vertical movement and the compact design of the door panels when fully opened.
The door is usually sized between 200 and 500 mm depending on the height and type of curtain slat used.
Most modern roller doors will use some kind of electric motor because the cost of this is very close to the hand-operated door for almost every type of door now.
These
garage
doors can
be
used
for
a
wide
range
of
safety
purposes.
Roller
shutters
for
doors,
windows
and
other
openings,
whether
for
home
or
business
applications. They're going to protect against the weather, destruction and, of course, attempted robbery.
Spares are available for all these brands