What is a Wireless Video Intercoms
Wireless video intercoms use combinations of digital radio waves to transmit video and audio signals to a dedicated handset in the house.
The "Call Point" will need to be hard-wired to a transmitter at the entrance which will then communicate via radio signals to the handset. It is recommended to position the transmitter so that it points toward the property or stationed handset to optimise range & signal strength.
For more advice on which system may be most suitable for you, please contact our friendly Technical Sales team on 01384 569942 or via technical@easygates.co.uk.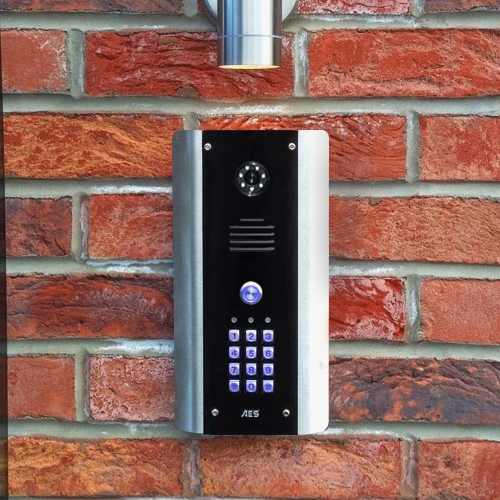 Wireless Video Intercom
The DECT 705 is a high quality, reliable intercom system with optional keypad that would be perfect for residential and commercial use with world-class long range radio communication.
The system affords high quality crisp audio for ease of conversation point to point, is easily installed and looks impressive and sleek. The body is constructed from BS316 marine grade brushed stainless steel, and the polished facade an acrylic black gloss finish. The keypad and buttons are backlit with a blue glow to make usage in the dark a breeze, the kit comes in two types; with keypad and without. The keypad has 3 relays, a 1200 user code capacity, latching and momentary operation functions and 4-8 digit passcode protection
The AES DECT 705 camera is full colour with an 80º viewing angle, and includes nightvision so that you can see your visitors in any light. The intercom also includes a voicemail function for when you miss a guests call. The system uses a long range antenna to utilise combined 2.4Ghz & 1.88Ghz digital signals to provide the best performance over long distances (450m unobstructed & 200m through a wall).
The kit also includes an AES video monitor featuring; a 3.5" LCD colour screen, built-in loud speaker, microphone and a door / gate release button. The monitor is available in a portable version or hands-free version, the latter is desktop or wall-mountable and easy to install. It comes with power supply and fittings included, up to three audio handsets can be added to compliment the video monitor.