What is 4G and What are GSM Video Intercoms?
When 4G was introduced into the UK the vast benefits were utilised not only for mobile phone technology, but various other products. Intercom manufacturers realised the potential and started developing wireless devices that operate with a 4G enabled SIM card.
This technology provides a stable wireless video entry system for installations that hard wired options are not easily retro fitted into.
If you need any further advise or details regarding the products listed below, please contact our friendly Technical Sales Team on 01384 569942 or via technical@easygates.co.uk.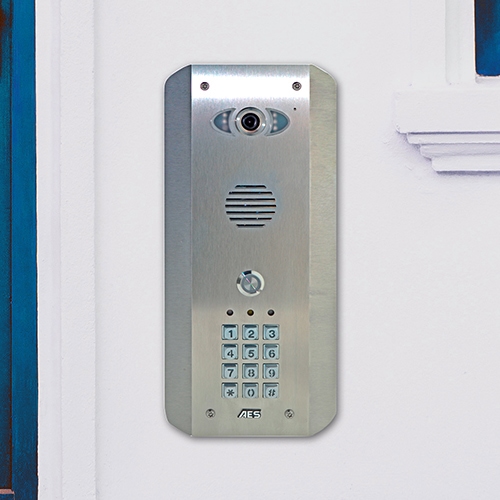 4G Video Intercom
The AES Predator 2 4G is an easy to install, and simple to use point to point communication system. It connects to the internet via a 4G SIM card (not included). The setup couldn't be easier; connect directly to the intercom and configure the device through the smartphone application. (available on Android and iOS devices)

AmazonTM Cloud P2P servers hosted in multiple countries for the fastest connection.
Full 2 way Duplex and half Duplex sound options!
2 Relays
Upgraded camera with IR cut filter for better colour by day and IR night vision by night
View the gate or door and operate them at anytime with monitoring mode, store images of the last 32 missed callers on your phone. The intercom has 2 relays for personalised access control including latching and hold for open functions.
The system affords high quality crisp audio for ease of conversation point to point, the colour camera is armed with night vision and IR cut filtering to deliver the most impressive performance even at night. A 4G Modem is included, simply pop in a 4G compatible SIM card with data.
The Intercom is easily installed and looks impressive and sleek, the body is constructed from Brushed stainless steel, and a polished facade in acrylic black gloss finish with blue back lighting.
Other styles of call point are available! Contact us for alternative options by clicking here.
The button (IP67) and optional keypad are backlit, to make usage in the dark a breeze. The keypad has 3 relays, a 1200 user code capacity, latching and momentary operation functions and 4-8 digit passcode protection. A waterproofed mylar speaker is installed to make communication clear at any time of year.