Hard Wired Audio Intercoms
What is a Hard Wired Audio Intercom?
A hard wired audio intercom is a telecom device that allows communication to an entrance point. Audio intercoms usually consist of a call point at the entry and a phone type handset inside the property. The intercom can normally be setup to open a gate or door directly from the handset.
For more information regarding the technology or product, please contact our friendly Technical Sales Team on 01384 569942 or via technical@easygates.co.uk.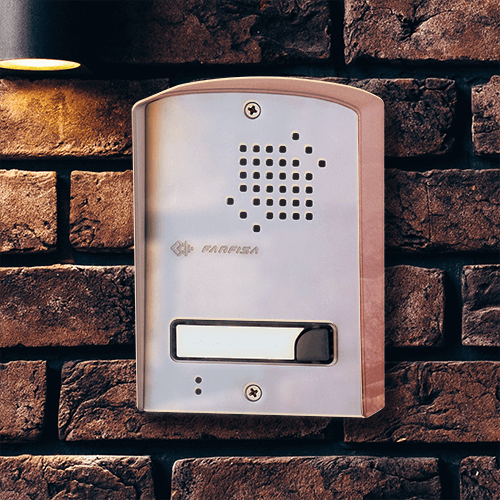 The sturdy and compact audio entrance panel
The Comelit Ciao-Mini Audio Intercom Kit is a single entrance essential and minimal hard wired audio intercom system, ideal for creating new systems or renovating existing ones.
The kit features a wall-mounted hard-wired audio entry intercom unit with mechanical buttons. Minimalistic and functional, the die-cast aluminium facade has an IK08 rating to ensure a durable long life, and an IP54 certification to secure the panel from dust and water spray. The intercom can handle 1/2/4 users, utilising button modifiers to customise your setup and LED lighting for night use.
Want to add additional users? Simply connect any additional handsets you require, swap out the buttons / faceplates and program in the new users. It's that simple!
All this housed in a unit just 28 mm thick. Power is supplied from the bus line, and surface mounting included. The kit comes with the Comelit 2-Button Door-entry Phone with electronic call, key button and additional 3-position selector allows for call volume and privacy adjustment. The two products are the perfect combination of simplicity and modern minimal design.
Single User Intercom Kit (CIAOKIT)
(expandable up to four users, simply add additional handsets as required)
Additional Handset (2738W)
(add extra handsets as required to expand your system up to four users)
Extensive range of options to suit your needs
The AES SLIM boasts; high quality audio clarity allowing for crisp clear conversation point to point, easy installation, 150 m range of twisted pair cabling and standard 12V DC requirement. The wired audio intercoms have a comprehensive range of options, to best serve your requirements of style and functionality. Constructed from full BS316 marine grade brushed stainless steel for strength and durability. With its sleek curves and polished finish, the intercom itself comes in two aesthetic styles:
Black gloss facade and blue back lighting
Stainless steel finish with white back lighting
As well as aesthetic preferences, the range includes functional variants with back lit code-lock keypad with 3 relays for personalised access control including latching and momentary operation. Thanks to the illuminated keypad theres no fumbling in the dark for your phone, the keypad offers 4-8 digit passcodes to ensure the safety of your property and can store up to 1200 user codes.
The handsets are bevelled and chic, choose your preferred type; hands-free or corded. Standard orders carry one handset but up to three additional handsets totalling four, can be arranged per system.
Some exampled systems are included below.
2 Wire Intercom with Built-in Keypad
The 1PEXFD kit from Farfisa provides a high quality, simple to install solution for a single dwelling audio intercom where an access control keypad is required.  Thanks to the use of 1+1 Technology, only 2 conductors are needed to connect the stylish 'Exhito' handset to the 'Profilo' surface mounted door station. The 'Profilo' series benefits from a robust construction with stainless steel buttons and green back lighting of the nameplate and keypad.
As the Kit uses standard Farfisa products, it can be easily adapted to suit different applications. For example, if you wished to add another call point or handset, this can easily be achieved by the addition of a few extra parts. For any further information, please contact one of our trained sales team.
The System can provide either an AC output for an electric strike lock release, or a clean contact for the operation of driveway gates.
Audio Intercom with Built-in Keypad
The Videx DK4K combines the popular 3000 series telephone with the new 4000 series modular door panel creating a high quality robust door entry kit combined with coded access.
Key Features:
Blue backlit keypad
Hinged Door Panel with TORX pin Security screws
Available with both surface and flush back boxes
Available with Keypad or without
Adjustable level call tone volume