What are Proximity Systems?
The term "proximity systems" refers to a range of access control devices that work using "contactless" technology similar to modern debit / credit cards.
Proximity systems are a high-tech alternative to traditional keys and consist of,
Proximity readers (also known as proxi / badge / card readers)
Proximity keys (also known as proxi keys / tags / fobs)
What can Proximity Systems be used for?
There are many potential applications for proximity systems, such as controlling access to exterior / interior doors in buildings or forming part of an intercom system. Other uses include clocking stations in the work place.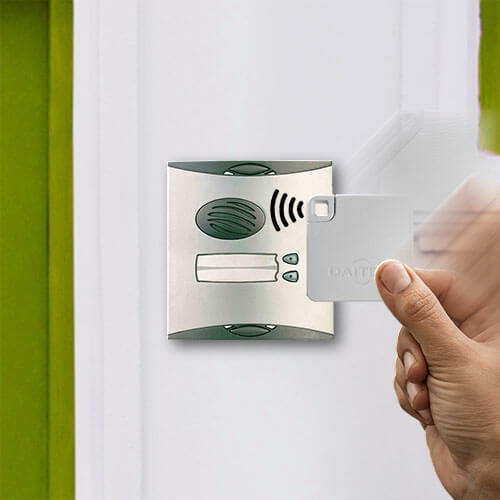 Standalone Proxi-Reader
Standalone proximity reader for access control in residential or small business properties.
2000 Card capacity with a reading time of 0.5 seconds
Fully programmable with the master card
Inconspicuous design
Suitable for indoor and outdoor installation and weatherproof
Non-volatile memory capacity stores programmed information for up to 10 years, in case of total power failure
Proximity Badge
A proximity badge from Daitem that enables for fast and simple, contact-less activation of entry systems, appropriate for outside use with a clean look and elegance.
Simple to use
20mm Reading Range (max)
Contactless activation/de-activation
Slim and Stylish design
Keyring compatible
Weatherproof build
Proximity Tag
A proximity tag for Daitem Systems and Easy-Prox as well as different access management systems allow for contactless access by holding the tag up to a fob/proximity reader.
EM Chipset
Printed Number For Fob Identification
Keyring Proximity Tag
Small and Practical design
Discontinued Proximity Systems
Additional Proximity Tag
Garage Doors or Gates may be quickly opened by simply holding the proximity tag in front of the name label on the keypad caller unit.
The Daitem additional proximity tag has been replaced by the SH804AX
Unique Code
32 Manageable users
Compatible with D5821 and D5822 only
Keyring Compatible
Sturdy Build