EZVIZ C3N – Outdoor Smart Wi-Fi Camera
The C3N provides a clear colour night vision solution to help see every bit of detail at night and delivering a better experience for monitoring your home in the dark
Compatibility
EZVIZ C3N – Outdoor Smart Wi-Fi Camera is compatible with the following systems: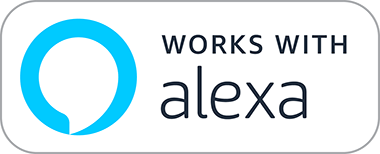 EAN / Barcode: 5060563451072
Description

Colour Night Vision all year round
Strobe light to help deter suspicious behaviour
Smart Human AI Detection to reduce false alerts
Secure the exterior of your home for 24/7 peace of mind
Push notifications sent to your phone when motion is detected.
Let's you view, and listen via the EZVIZ app
Compatible with Amazon Screen & Google Home devices.
The C3N provides a clear colour night vision solution to help see every bit of detail at night and deliver a better experience for monitoring your home in the dark.
Its built-in AI Human Detection deep learning model that can detect the motion of person in real-time to further reduce false alerts, delivering the most important footage to you wherever you are. You'll receive a notification in a split second.
Be Informed – Motion Detection Alerts will trigger a notification to be sent to your smartphone via the EZVIZ app which brings attention to the event occurring from wherever you are. Great for outdoor detections in the Garden or Driveway.
Reliable Connectivity – Dual antennas on the camera ensure reliable wireless transmission indoors or outdoors, to enhance the connection to and from your Wi-Fi Router, removing potential video lagging whilst maintaining good performance through the various weather conditions when placed outside.
Save Bandwidth and Storage – Using the latest H.265 video compression technology, the C3N renders clearer and smoother video while reducing the need for data storage space and bandwidth.
Amazon Alexa & Google Home Compatible – Using the sound of your voice you can view live footage via your Amazon Alexa and Google Hub
24/7 All Season Protection – Because of its IP67 enclosure rating, the Outdoor camera will be resistant against rain, snow, and other weather conditions. With the integration of Infrared technology, footage can be seen clearly at Night too.
Audio – Integrated with professional de-noising algorithm to filter background noise for enhanced voice quality. The internal waterproof MIC supports audio pickup within five meters and video recording with sound via the EZVIZ app so you can hear everything.
App Features – With the EZVIZ app you can manage and view your camera live. In addition to this you can set schedules, create detection areas and review/share previous footage.
Storage of footage – EZVIZ cameras can hold a MicroSD card (up to 128GB) for local continuous storage upon each detection, or alternatively you can sign up to EZVIZ's Cloud Storage system (subject to subscription costs)
Further Recommendations Consider a Wi-Fi Range Extender if you have poor connectivity around the home from your Router location
What's in the box
C3N Outdoor Smart Wi-Fi Camera
Drill Template
Screw Kit
Waterproof Kit
Power Adapter: 1.5 m (4.9 ft.)
Quick Start Guide
Camera
Image Sensor 1/2.7" Progressive Scan CMOS
Shutter Speed Self-adaptive shutter
Lens 2.8 mm @ F2.0, view angle: 104° (Horizontal), 125° (Diagonal) / 4 mm @ F2.0, view angle: 86° (Horizontal), 102° (Diagonal)
Lens Mount M12
Day & Night IR-cut filter with auto-switching
DNR 3D DNR
WDR Digital WDR
Video Compression H.264 / H.265
Video Bit Rate Ultra-HD; HD; Standard. Adaptive bit rate.
Max. Resolution 1920 x 1080
Frame Rate Max: 30 fps; Self-adaptive during network transmission
BLC Supported
Network / Storage
Smart Alarm AI-powered person detection
Wi-Fi Pairing AP pairing
Protocol EZVIZ cloud proprietary protocol
Interface Protocol EZVIZ cloud proprietary protocol
Max. Bitrate 2 Mbps
Storage MicroSD card slot (Max. 256 GB)
Wired Network RJ45 x 1(10 M / 100 M Adaptive Ethernet Port)
WiFi
Standard IEEE802.11 b/g/n
Frequency Range 2.4 GHz ~ 2.4835 GHz
Channel Bandwidth Supports 20 MHz
Security 64 / 128-bit WEP, WPA / WPA2, WPA-PSK / WPA2-PSK
Transmission Rate 11b: 11 Mbps, 11g: 54 Mbps, 11n: 144 Mbps
General
Operating Conditions Temperature: -30°C to 60°C (-22°F to 140°F)
Humidity: 95% or less (non-condensing)
Power Supply DC 12V / 1A
Power Consumption Max. 7W
IP Grade IP67
Night Vision Distance (Black/White Night Vision Mode) Max. 30 meters (98.43 ft.)
Audio Reception Max. 5 meters (16.4 ft.)
Dimensions 75.5 x 75.5 x 155 mm (2.97 x 2.97 x 6.10 inch)
Packaging Dimensions 227 x 100 x 92 mm (8.94 x 3.94 x 3.62 inch)
Weight 422 g (0.93 lbs)
Frequently Asked Questions
Q
How to use voice assistant to control your EZVIZ security cameras?
A
Connecting your EZVIZ security cameras with voice assistant(s), such as Amazon Alexa and Google Home, is a simple process.
Checklist before setting up:
√  Make sure you have downloaded EZVIZ App and Amazon's Alexa App/Google Home App on your phone.
√  Make sure your EZVIZ security camera has been added to EZVIZ App successfully;
√  Turn off 'Image Encryption' of your EZVIZ security camera:
1)      Log in to your EZVIZ App and go to device setting;
2)      Look for 'Image Encryption' and tap to turn it off.
3)      Enter the verification code (as the default password) to apply the change.
√  Change the name of your EZVIZ security camera:
1)      Go to device setting
2)      Tap on 'name' and change it based on your need, such as 'front door camera' or 'baby room camera'.
Enable EZVIZ skills on Amazon Alexa
Video tutorial: https://youtu.be/ro3Y8AkXJ7M
1.      Log in to your Alexa App.
2.      Choose 'Add Device' from the menu.
3.      Choose 'Camera' and select EZVIZ to enable the skill.
4.      Enter your EZVIZ username and password in order to authorize Alexa to access your EZVIZ account.
5.      Tap 'Discover Devices' to allow Alexa to discover all your EZVIZ devices.
6.      Go back to Alexa app menu and you should see all your EZVIZ devices under 'Cameras'.
Connect EZVIZ devices to Google Home
Video tutorial: https://youtu.be/v3nrrosYRr8
1.     Log in to your Google Home App.
2.     On the home screen, tap 'Add', then 'Set up device.'
3.     Select 'Have something already set up?'
4.     Type and search 'EZVIZ', then select it.
5.     Enter your EZVIZ username and password in order to authorize Google Home to access your EZVIZ account.
6.     Once the device is linked successfully, follow the prompts to finish the setup.
---
Product Specifications
Physical and Performance Attributes

Weight
422 grams
Dimensions (L x W x H)
227 × 100 × 92 mm
Dimensions

Dimensions 75.5 x 75.5 x 155 mm (2.97 x 2.97 x 6.10 inch)

Packaging Dimensions 227 x 100 x 92 mm (8.94 x 3.94 x 3.62 inch)

Protection Rating (IP)
67
Vandal Resistant?
No
Mounting Type
Surface Mounted
Operating Temperature
-30°C to 60°C (-22°F to 140°F)
Operating Humidity
95% or less (non-condensing)

Electronics Attributes

Max Consumption
Max. 7W
Power Supply
DC 12V / 1A